Use with Metal Shoulder Chain Clutch Frame for Evening Bag
Product Description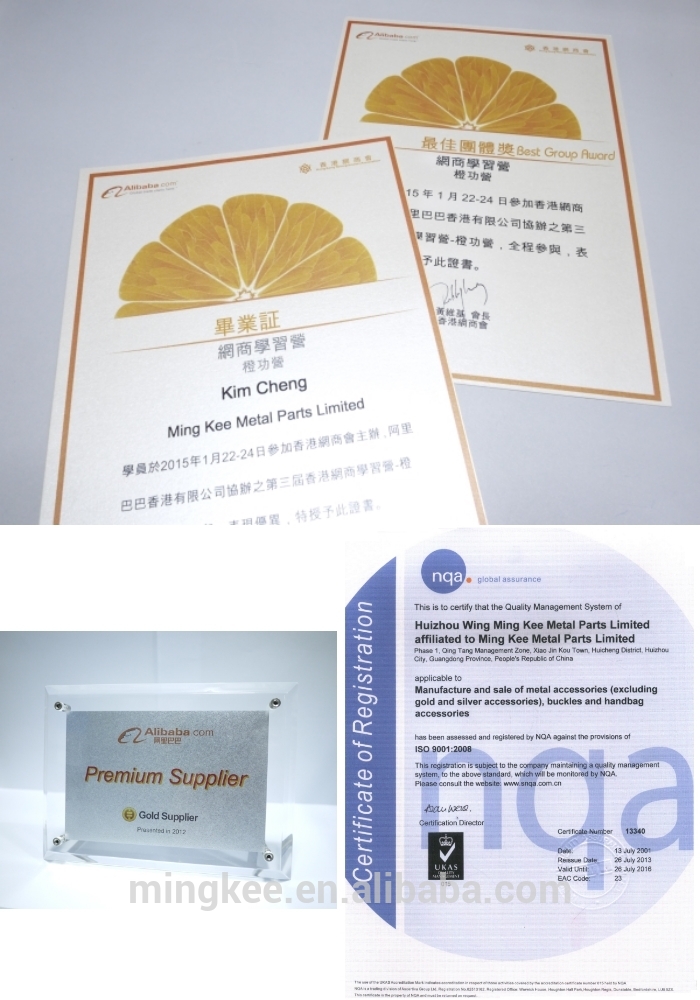 PRODUCT DETAIL

Lead Free

,

Nickel Free

and

Lacquer

 can be requested

 Item Code

 Use with Metal Shoulder Chain Clutch Frame for Evening Bag  


 (S25-294S)

 Material

 Brass / Iron

 Size

 Please ask us

 MOQ
 500-3000 pcs / colour (Negotiated)
 Unit Price
 Offering Ex-Work Unit Price
 Customized  Logo
 Laser Printing or Screen Printing 
 Sample Time
 14 - 21 Working Days
 Bulk Lead Time
 21 - 30 Working Days

 OEM  &

 ODM  Service

 We're honoured to be your Brand Partner.

 We Hope to be "YOUR METAL ACCESSORIES MANUFACTURER".

 Packing

 Inner Packing - Paper & Plastic Bag

 Outer Packing - 2-Ply Carton / 3-Ply Carton

 Suit to

 Handbag, Purse, Wallet, Case, Box, Luggage,  Clutches, Hobos,  Laptop Bag,  Messenger Bags,  Satchels, Crossbody Bag,  Shoulder Bag, Totes,  Belt,  Backpack or some Leather products  Manufacturer, Wholesalers, Retails and  etc.




 Garment and Shoes Industries too.

 Certificate
  

ISO 9001:2008 (

Quality Assurance)
 FOB Port

 Hong Kong

 Payment
 T/T or PayPal (Excluding BANK CHARGE & HANDLING FEE)

SAMPLE INFORMATION

 Stock Sample

 Stock Checking may cost about 1 - 2 Working Days

 We'll check whether we could provide 1 - 2 Samples 

 of each item to you or not

 Colour Sample is also available

 Producing

 New Sample

 For existing Model, we could provide 6 sets of samples with the colour you  require by charging USD$ 85 only.

 

 Sample Production Time: 14 - 21 Working Days

 Sample

 Payment

 PayPal (Suggest)          or         T / T

 Shipping

 Method

 Air Mail, Surface Mail or Express 

 Shipping

 Date

 The days needed for delivery is according to the destination 

PRODUCT CATEGORIES
PAYMENT

 Payment  Method

 Sample Payment: BANK T / T TRANSFER or  PayPal

 

 Bulk Payment:  BANK T / T TRANSFER

 

 Deposit 30% before Mass Production

 The Left 70% balance payment before arranging the delivery.

 

                                                          or

 

 100% payment for avoiding paying the bank charge twice.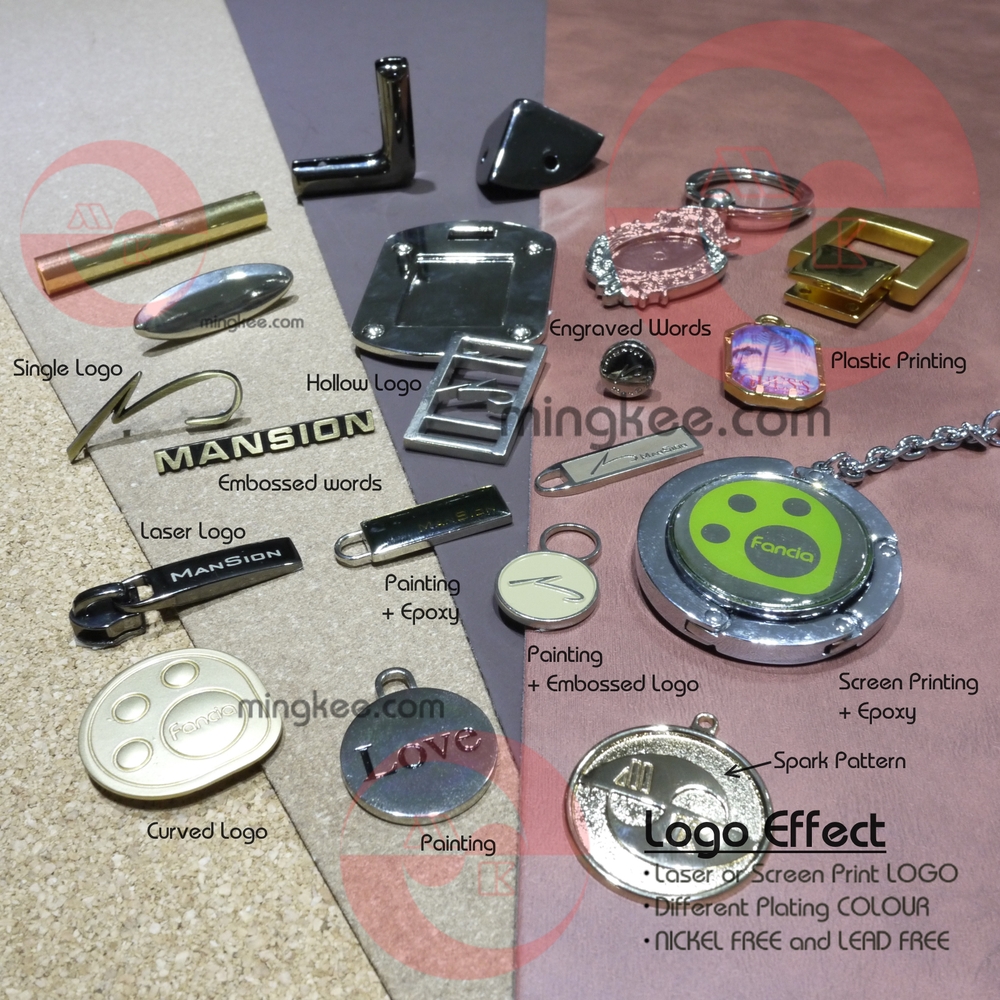 SAMPLE TIME & LEAD TIME of MASS PRODUCTION

 Sample

 Time

 14 - 21 Working Days 

 Lead

 Time

 21 - 30 Working Days

BULK SHIPMENT

 Contact

 Information

1) Contact Person

2) Delivery Address

3) Zip Code

4) Tel. No.

 Client's

 Shipping

 Company

Due to the Ex-Work Unit Price,

We are only responsible for the products until arrive our Hong Kong Office.

 

You are responsible for the products

after the products leaving our Hong Kong Office.

 

You may choose your favourite courier

(DHL, FEDEX, UPS or etc) or shipping company for delivery.

OR, We could help you to find one if you have difficulty to find forwarder.

 

 Inner Packing - Paper & Plastic Bag
 Outer Packing - 2-Ply Carton / 3-Ply Carton
MING KEE'S PRODUCT APPLICATION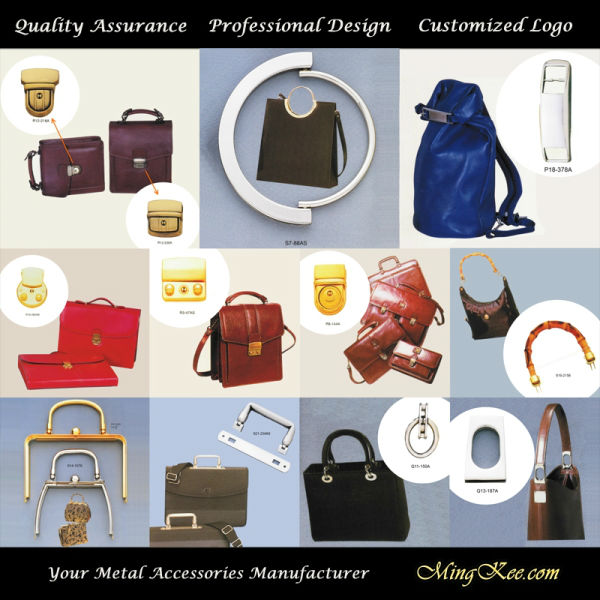 NEW MOLD DEVELOPMENT
 The steps of New Mold Development:
→ Collect your mold fee
→ Confirm the Draft Drawing of the New Mold
→ 21 – 30 working days for developing
→ Sending samples for you to confirm (Collect delivery charge from you at the same time)
→ After you confirm the samples, 7 days more for finalizing the mold
→ After finalizing the mold, we could start to produce the Bulk Order.
OUR CLIENTS

ABOUT US
 Ming Kee Metal Parts Ltd. was established in 1977 of mainly producing handbag accessories.
l  Over 35 years experience of making handbag accessories
l  Have a Head office in Hong Kong and a factory in China 
l  Producing a luxury and high quality metal with superior Zinc Alloy and other Metals
     (Example: Aluminum, Brass, Iron, Stainless Steel and Lost Wax)
     to meet our middle-to-high-end clients' requirement.
l  Nickel-free, Lead-free and Lacquer can be requested.
l